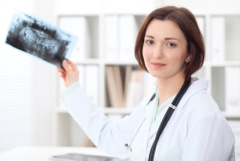 There are various heart conditions that require special precautions when it comes to caring for teeth and the mouth. Chronic and acute conditions, including a cardiac event (heart attack), high blood pressure, angina, stroke or congestive heart failure, should be discussed with the dentist or your physician prior to any dental procedures.
The notion of a healthy smile is more than (pun alert) lip service: healthy teeth and gums keep the rest of you healthy, including those with heart disease. Someone with heart disease needs to be extra vigilant in maintaining a healthy mouth by practicing good oral hygiene and regularly visiting the dentist. It is also important to follow your physician's or the dentist's instructions when they prescribe particular medications, namely antibiotics, prior to dental procedures.
Infective Endocarditis
Infective Endocarditis is a relatively uncommon infection of the heart valves, but can be life threatening. The infection occurs when bacteria or other microorganisms enter the body and reach the heart; a common way this happens is through the mouth. To prevent infective endocarditis in patients with a weakened heart, antibiotics are usually prescribed and should be taken before doing certain dental treatments.
The American Heart Association recommends taking antibiotics before dental treatments for patients with:
Previous history of infective endocarditis;
Prosthetic (artificial) heart valves;
Recipients of heart transplant who have cardiac valvular disease;
Some congenital heart defects.
The American Heart Association also advises taking antibiotics before the following dental treatments:
Tooth extraction;
Endodontic procedures (root canals);
Placement of implants;
Tooth or implant cleaning, if bleeding is anticipated;
Intraligamentary local anesthetic injections;
Re-implantation of natural teeth after dental avulsion (a tooth that falls out completely after an accident);
Periodontal procedures (gum exams, cleanings, and surgeries);
Placement of orthodontic bands, but not brackets;
Placement of antibiotic fibres or strips below the gum line.
Heart Attack
Someone who's had a heart attack should wait at least six months before having dental treatments. It's important to give your dentist a detailed list of the drugs taken to prevent complications. For example, if a heart attack patient takes anticoagulants, the blood is less likely to clot and treatments like tooth extraction may need a temporary modification of the drug intake.
Angina
Like a heart attack, an angina attack can be felt like pain that starts in the chest and radiates to the lower jaw.
Some drugs such as calcium channel blockers might cause gingival hyperplasia (overgrowth of the gums), which can start as soon as one month after someone starts taking the drug. Some people's gums become so large they have difficulty eating and surgery is necessary to make the correction. If the dentist diagnoses that problem, the patient must follow detailed hygiene instructions and have more frequent cleanings.
Patients with stable angina can be treated like any other patients and proceed with any dental treatment. But people who suffer from unstable angina should not receive elective dental procedures and concentrate only on emergency treatments.
Congestive Heart Failure
Many medications prescribed to treat congestive heart failure may cause dry mouth (xerostomia) or an altered sense of taste (dysgeusia).
There are usually no special concerns in undergoing dental treatment for someone being treated for mild-to-moderate congestive heart failure if they have no complications or side effects.
Pacemaker
A pacemaker is a medical device that uses electrical impulses to regulate the beating of the heart. It's important to inform your dentist if you have a pacemaker because all dental electromagnetic devices should be avoided.
More thorough dental treatments should be postponed several weeks after surgery. If an emergency dental procedure must be conducted, the dentist or the physician may prescribe pre-treatment antibiotics.
For more information, ask Dr. Meyers about your heart health and any upcoming dental procedures.