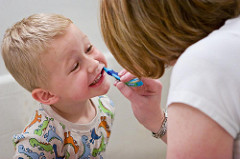 It's important for kids and adults to get regular dental care through twice yearly cleanings. While at the dentist's office, your kids will get a gentle and thorough teeth cleaning. But your kids can't live at the dentist's office. So, make sure you and your dentist work together to make the lessons from the cleaning cross the threshold into your own home. Some suggestions:
Turn your child's brushing and losing into a game or a competition. There are products out there to help kids brush for long enough. That is the crucial issue, as children underestimate two minutes, which is the minimum amount of time to get teeth properly cleaned. Play a favorite song or video that lasts at least two minutes.
Switch to an electric toothbrush. Kids like a "machine" as opposed to an inanimate toothbrush.
Attach something large to the ends of dental floss. This give the kids something easier to grip.
Make sure your kids really understand the dangers of poor oral hygiene. They should understand that teeth can "get sick" and even "hurt" if we don't clean them well. Have these discussions without frightening the children, however.
Let children choose the elements of their oral health hygiene, including their favorite toothpaste, the color and type of toothbrush they want and even their cups.
Brush and floss your teeth when they brush and floss theirs. Be their best role model so they can "do as you do".
Make the teeth cleaning process regular and fun and ensure that it lasts for long enough, too. Together, you'll be able to keep the cavities at bay and enjoy years of good dental health.