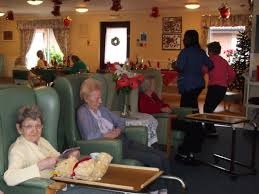 If you or a loved one live in a senior facility, you are aware of the many tasks that workers are asked to perform: helping the residents eat, including getting to a dining room when able, assistance with dressing and toileting and providing basic medical care.
One of the tasks that nursing home workers are supposed to address, but often fail to, either due to time constraints, lack of training or no directive on the part of management is care of residents' teeth.
In nursing homes across the country, residents suffer with cavities, gum disease and sometimes even broken or cracked teeth, mostly because of inadequate or totally nonexistent oral hygiene. The care of residents' teeth varies by location and by management. In addition, some patients are more difficult to manage, including residents with musculoskeletal conditions that inhibit keeping their mouth open wide, those residents who suffer dementia, and those who recoil when being touched.
This is now a crisis, one that impacts not just the teeth, but the overall health of each resident.
Residents can be in terrible pain from tooth and gum issues. Worse, missing teeth inhibits eating and can lead to aspiration of food, which can lead to pneumonia, which affects 10% of senior citizens.
Research on oral health care in old age homes has been conducted in 11 states and the numbers tell the story: In Kansas, 30% of the residents had "substantial oral debris on at least two-thirds of their teeth." More than one-third had actual tooth decay. Wisconsin was no better. Their researchers found 31% of residents who actually had broken teeth with visible roots.
Those residents with dentures are not immune from the poor care. Their dentures are not regularly examined for fit and are often lost. The one advantage of dentures is that it is easier for the staff to clean them.
Complicating the situation is that these residents receive health care benefits through Medicare, but Medicare excludes most aspects of dental care.
In order to improve the situation, there will need to be some advocates for oral health care legislation for those in senior living facilities.  Additionally, individuals will have to insist on better care for residents in each home with which they are associated.