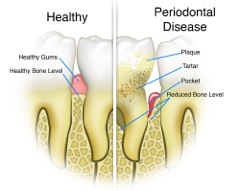 Gum recession is a common dental problem that causes concern among many people, but because of its gradual occurrence, most people don't realize they have recession until the first signs appear. Two telltale signs of gum recession include tooth sensitivity or noticing a tooth that looks longer than normal. (Typically, a notch or "pocket" can be felt near the gum line.)
Healthy gums are critical to both oral and overall health, as we've discussed previously so it's not something you want to ignore. Regular check-ups with your dentist can help mitigate ongoing recession since it will likely be caught in its early stages. There are also treatments that can repair the gum and prevent further damage.
Clinically, gum recession is the process where the borders of gum tissue surrounding the teeth pull back, exposing more of the tooth or even the tooth's root. (This is where the "sensitivity" factor comes into play.) When gum recession occurs, "pockets," or gaps, form between the teeth and gum line, making it easy for disease-causing bacteria to build up. Left untreated, the supporting tissue and bone structures of the teeth risk damage, eventually resulting in tooth loss.
There are a number of factors that can contribute to gums receding, including:
Periodontal Disease: Bacterial gum infections can destroy both gum tissue and the supporting bone holding teeth in place; periodontal disease is the primary cause of gum recession.
Genetics: Some people may be more susceptible to gum disease. In fact, studies show that 30% of the population may be predisposed to gum disease, regardless of how well they care for their teeth.
Forceful or Aggressive Tooth Brushing: If you brush your teeth too hard or the wrong way, it can cause the enamel on your teeth to wear away and your gums to recede.
Poor Dental Care: Conversely, inadequate brushing and flossing allows plaque to turn into tartar, which can lead to gum recession.
Our Six Tips to Improve Gum Recession Include:
Good oral maintenance, including proper brushing, flossing and rinsing with an antiseptic mouthwash, twice daily.
Maintaining a balanced diet with adequate amounts of protein, Omega-3 fatty acids and vitamin D.
Try using probiotics for two-three months to improve your digestive health.
Keep juices, teas and acidic drinks to meal times only
Ensure lunch is nutritious – include green leafy vegetables to boost body alkalinity and improve the quality of after-lunch saliva
Try not to eat or drink anything for a couple of hours after lunch each day — this gives your teeth time to interact with undiluted, natural saliva, which helps protect your teeth's enamel.
The best way to help prevent gum recession is to regularly visit your dentist to monitor your oral health. If you have questions about gum recession or are concerned that you are looking "long in the tooth," ask Dr. Meyers during your next visit.