When you are choosing a healthy, balanced diet, there are so many benefits: better cardiovascular health, maintaining or attaining appropriate weight, but you should also be aware that your choices of food and drinks also can have an effect on your teeth and gums.
In general, following the guidelines of the US Department of Agriculture is a good bet. These include eating more fruits and vegetables, choosing whole grains, consuming low-fat dairy foods, lean meats and proteins and limiting fats and sweets.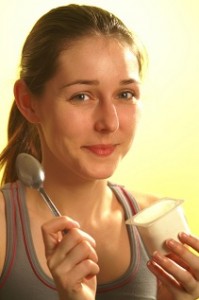 When choosing what to eat for meals and snacks, consider these things:
Is the food sticky or gummy?
Does the food or drink have a high sugar content?
Is the food or drink a good source of nutrition or empty calories?
Does the food or drink contribute to acid reflux, which can cause damage to tooth enamel?
Is the food particularly acidic (even healthy foods like tomatoes can break down tooth enamel)?
Too sweet!
Your body metabolizes sugars and carbohydrates for food, and your mouth turns carbohydrates into oral bacteria. So, watching your added sugar intake is good for your waistline, keeps diabetes at bay and is better for your teeth and gums.
Look out for high sugar and carbohydrate-rich ingredients in your food, and particularly note where this ingredient is listed, as prepared foods list ingredients by order of volume. In other words if the ingredients list sugar near the top of the ingredients list, that means there is quite a bit of sugar in the item than if sugar were listed near the bottom of the ingredients list.
Limit the following:
All sugars (cane, brown, powdered)
Concentrated fruit juice
Corn sweeteners and corn syrup
Honey
Molasses
Glucose
Dextrin
Eat lots of the following foods because they contain great nutrients for your teeth:
Any calcium-rich foods like milk, cheese, yogurt, leafy greens, almonds, calcium-fortified foods (except fruit juices, which just contain too much sugar)
Any foods which contain phosphorous, like poultry, fish, lean meats, eggs and milk
Fruits and vegetables that contain Vitamin C and Vitamin A (the water in fruits counteracts the sugars, by the way).
Drink lots of water, the best thing for your teeth!
Regarding snacks, nutrition experts vary in their advice. Many recommend snacks between meals and for certain blood sugar issues (diabetes and hypoglycemia), snacking is imperative. The issue with snacks is really a matter of choice. If your go-to snack is a sweet or even a high-carbohydrate snack, then you are adding those elements back into your mouth. If you choose a healthier snack, then you are treating your mouth, your teeth as your gums as your best friends for life!