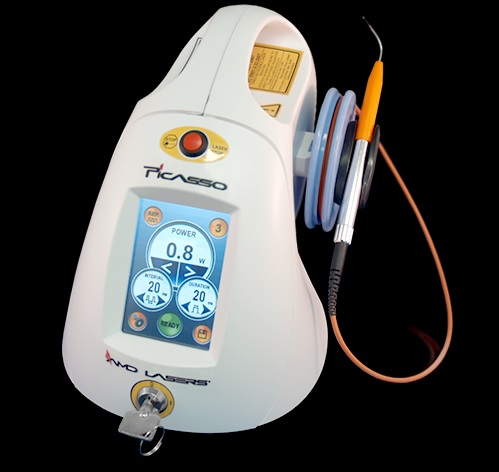 We are very happy with the purchase of our newest dental laser technology. This newest equipment provides a state of the art set of tools for treating a variety of dental issues.
Laser tools are less invasive than traditional dental tools. They don't make the same loud sounds. They don't vibrate. As a result, laser technology reduces the need for anesthesia and is perfect for patients who have anxiety about dental procedures, including pediatric patients.
Some of the best uses of laser technology in a dental practice include:
Microsurgery on very small cavities and small fissures in the enamel.
Root Exposure
Desensitization of sensitive teeth
Implants (laser encourages bone growth factors)
Very effective, sterile and gentle in working with implanted bone.
Cleaning of root canals.
Endodontic treatment.
Gum treatment including debridement of swollen and infected gum tissue.
Removal of plaque and tartar
Crown lengthening
Cosmetic dentistry including depigmentation of teeth, and debonding of porcelain veneers.
Pediatric treatments like exposure of unerupted teeth.
Frenectomy (This is a procedure to alter the frenulum which connects the upper lip to the middle of the teeth. Sometimes the frenulum causes a big space between the teeth.)
Pulpotomy (the removal of the diseased interior of a tooth)
Treatment of canker sores of all varieties
We are excited to have this latest technology and to pass its benefits on to you.