Pediatric pain control involves quick thinking to put kids at ease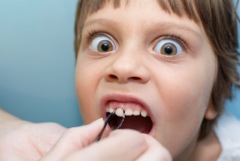 Managing a patient's actual or perceived pain is difficult enough, but pediatric pain management takes that difficulty to a whole new level. In truth, there's very little a hygienist does during a pediatric cleaning that causes actual pain. Sure, there may be an occasional pinched lip, accidental pressure put on a loose tooth or even a slip with a scaler. (The most commonly uncomfortable thing asked of young patients is asking them to close on a bitewing tab for x-rays.)
Like our medical brethren and their oath of "First, do no Harm," the American Academy of Pediatric Dentistry emphasizes to dentists: "don't hurt them!" The AAPD, in a 2012 policy statement on pain management, begins with these two recommendations:
Recognize and assess pain, documenting in the patient's chart.
Use non-pharmacologic and pharmacologic strategies to reduce pain experience preoperatively.
Let's use the example of nervous little Branton, an 8-year-old who has made it clear of his displeasure visiting the dentist. Whether real or perceived, his cries of "ow, ow, ow, ow," deserve my recognition — even if there's a reasonably good chance he was faking it.
By asking, "Oh, no, what happened?" it gives him an opportunity to explain. Maybe I really was pinching his lip without knowing it, or maybe he was just trying to delay the inevitable. Either way, I need to assess the reason for his reaction and decide how to handle it.
If his lip was being pinched, it could be because his mouth is small, in which case I needed to adjust my approach. Maybe I was distracted and not paying attention, in which case I would apologize, admit it was an accident and promise not to do it again. Mindfulness can be an asset with pediatric patients.
The second recommendation of the AAPD — to use non-pharmacologic and pharmacologic strategies to reduce pain preoperatively — can also address both actual and perceived pain.
An example of a non-pharmacologic strategy would be if a loose tooth were tender, I would concentrate on mindfulness and find another fulcrum. Pediatric dentists also manage the pain of operative treatment in various ways: local anesthetic, preceded by a good topical anesthetic, can take care of simple dental procedures. (Most children who have asked me about shots seem to take the idea in stride.)
Sedation is another option used in pediatric dentistry. Conscious sedation, for instance, is where the patient is conscious but rendered free of fear and anxiety. One of the specific goals of conscious sedation is to reduce the perception of pain and discomfort while enabling the child to be alert enough to respond to a directive such as, "stay open."
Unlike adults, children rarely have "general sensitivity," but if that's the case, pre-polishing (with a product like Colgate Sensitive Pro Relief) can take care of the problem.
Patience is the key. By staying mindful, using all the tools at our disposal, employing lots of "tell-show-do," and knowing that we will repeat ourselves fairly often, any actual or perceived pain can be kept to a minimum.