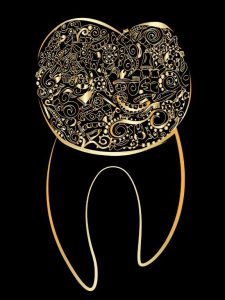 While unlikely, it is possible for a crown to come unstuck ("debond"), especially if it's knocked or if you happen to bite into something hard or very sticky. Not surprisingly, it can be both unsettling and worrisome. Worse yet, what do you do if you're unable to see your dentist for a day or two, or possibly longer, depending on the circumstance?
First Rule of Thumb: Don't panic. If it's not lost or swallowed, carefully take the crown out of your mouth to avoid the risk of swallowing it or, much graver, breathing it into the windpipe.
On the off chance a cap is swallowed, it will eventually work its way through the digestive system without causing harm, but… it's a gonner. Don't think about retrieving it.
Ideally, you'd make an appointment with your dentist as soon as possible to get the crown properly fixed back into place. Of course, that's in a perfect world. If you still have the crown, but aren't able to get to the dentist, clean and sterilize the cap with some Milton sterilizing fluid (sold in most drug stores), dry it and put it safely into a small container.
It's important to keep the underlying tooth from which the crown came clean by carefully brushing with a soft toothbrush. Note: the tooth may still be alive (vital) and will likely be sensitive to hot or cold drinks and food — best to avoid them.
If the underlying tooth is non-vital it won't hurt, but it's important to try and prevent any food debris from lodging into any gaps that may be present if it's a crown with a post attached.
If the tooth is right at the front of your mouth, you'll understandably be anxious to temporarily fix it until you can see the dentist. There are temporary cements you can buy at the drugstore, but these materials aren't strong bonding agents and may not hold the crown securely.
There could be a risk of it coming loose while you sleep and it being swallowed or inhaled, so it's best to manage without it if you possibly can. You can always try chewing gum … people have been known to use it in a pinch.
If you decide to re-fix a crown with temporary cement, take care not to put pressure on it while eating or brushing your teeth since it is easily dislodged. However, whatever you do to temporarily fix the problem, don't EVER use something like "SUPER-GLUE," it's not only dangerous, it will likely ruin the crown and tooth.
Your best bet is to get to the dentist as soon as you can; in the interim keep the area clean and be mindful of what you eat.