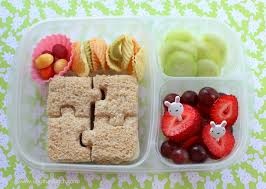 Whether you are packing a lunch for yourself, your partner or a child, it's good to remember that healthy lunch choices can also keep your teeth and gums healthy.
Consider these choices as you prepare lunches for all of your loved ones:
Include food from several food groups, and don't ignore fruits, vegetables, grains, dairy and protein.
Fruit is a great source of something sweet. If you find that you or your child find the fruit to be "too much of a bother", take some time to cut up the fruit and see if the fruit gets eaten. Kids often times won't eat a whole apple or a pear or an orange, but if it is sliced up and immediately put into an air tight container or zipper bag, it suddenly becomes much more user friendly.
Make sure your child drinks milk if it is available to them. Adults and kids who can tolerate milk can include dairy in many other forms: packaged string cheeses, yogurts and cottage cheese. Ending your meal with cheese is great for keeping tooth decay at bay.
Try not to pack sticky foods, which leave sugary residue on the teeth for the rest of the day.
Also avoid foods that could become lodged in between teeth like popcorn.
Try to avoid packaged sweet treats if your kids will willingly forego them. They just add calories and more sugary residue to the surface of the teeth. Even though fruit contains sugar, the water in the fruit helps to wash away the sugar content.
Salads are great for everybody; they can be low calorie but packed with added protein and they take a long time to eat. Throw in a sealed container of salad dressing and a plastic fork. Tell yourself (and your kids) that you are packing a salad bar in a bag and be creative with dinner's leftovers: some green peas, a little cut up chicken breast, shredded cheese, corn, crunched up tortilla chips…the choices are endless.
Choose whole grain breads and crackers over white breads and crackers
Packing lunch can be a chore, but with planning, creativity and wise choices, you can create lunches that are healthy for your body and your mouth.